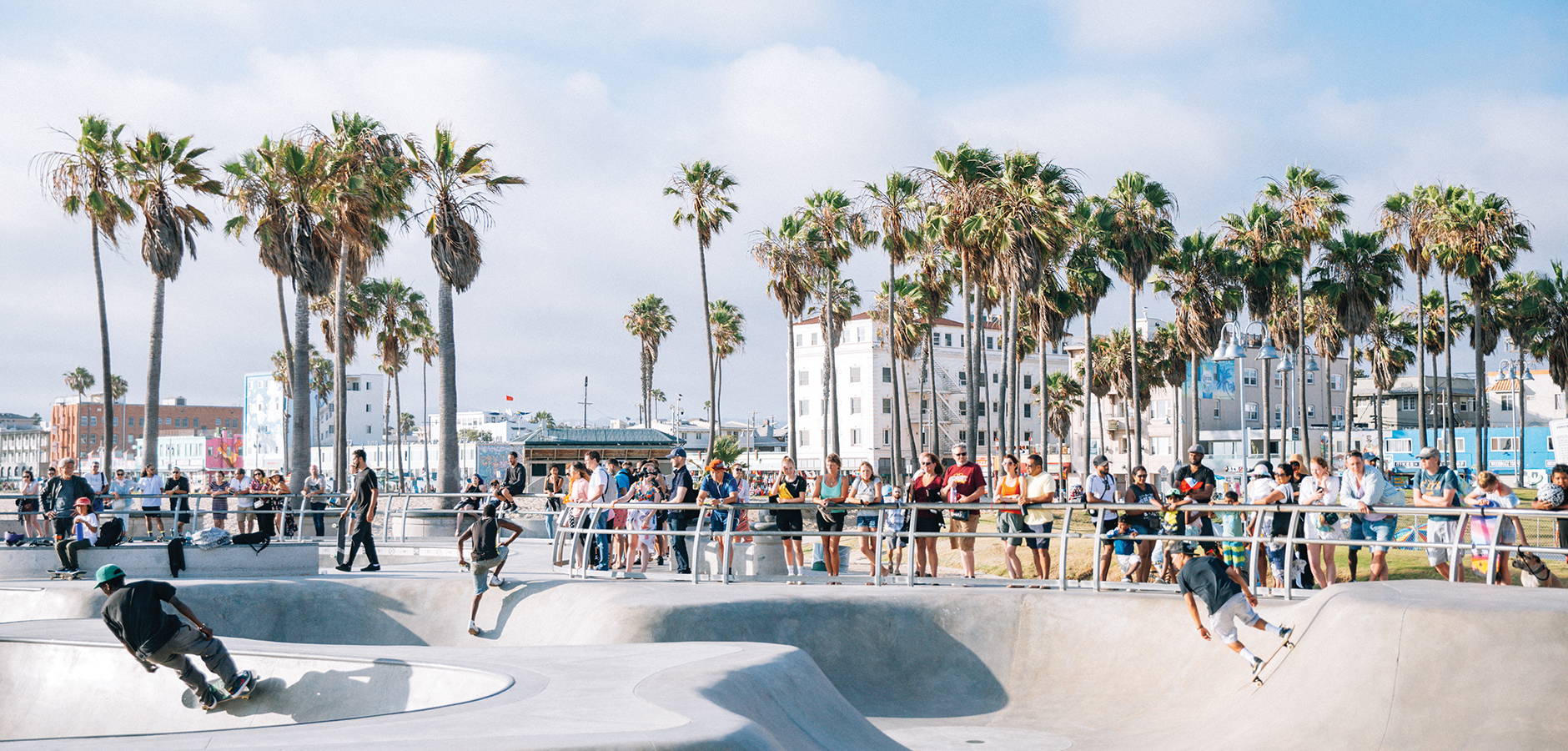 Venice Beach is not only a residential neighbourhood in Los Angeles, California, it's a buzzing beach town full of funky shops, street performers and colourful murals. Explore the picturesque neighbourhood with tips from the GRLSWIRL – experience their backyard, get lost and at the end of the day sink your feet in the sand while watching the sunset descend into the Pacific's horizon.
Lindsey Kaye offers her top tips for the comfiest stays!
The Rose Hotel, which has been around for more than 100 years, offers incredible coffee and the finest French croissants from chef and owner Sharon Wang's Sugarbloom Bakery. The right place to stay "if you're feeling fancy, and love staying close to the beach".
Or perhaps The Viceroy, right on the border of Santa Monica and Venice beach is more your vibe. Its lush and secluded grounds offer a tranquil escape from the exciting bustle of the nearby boutique strip of upscale shops, restaurants and beach life. "The hotel hands down wins for comfiest beds and sheets. The pool is amazing. I would say a little bit of a Hollywood feel on the Westside."
For the budget conscious there is trusty Airbnb. It's one of the best ways to instantly feel connected to the 'somewhere' you are exploring plus if you are sharing the space with a local you get the insider's guide to what's best to do and eat!
Wander... "the back alleys and neighbourhoods towards Abott Kinney. Such a fun beach community with interesting homes and art walk all along the walls." – Myriah Rose Marquez
Sip on… "tequila and Mezcal at The Tasting Kitchen, Scopa and Townhouse. Best Craft Cocktails in town. Not all restaurants/establishments have hard liquor licenses, but these are my favourite that do! Tip your Bartenders!" - Lindsey Kaye
Laugh at… "comedy night at Townhouse" - Sarah Tobi Explore the... "Pacific Coast Highway towards Malibu. The drive is beautiful, and you can stop along the way for a drink at the pier or grab a lobster roll at the Malibu Seafood Market." – Julia Guedes Ama

Relax at… "the marina side of the beach because it's so much quieter. I take my dog there every morning for a run along the water and it's the perfect way to start my day." – Monroe Alvarez

If you only have a hot second for… "a quick snack or coffee, Menottis is my go-to 3 times a day!" – Myriah Rose Marquez
For something zesty... "Fiesta Brava is the best Mexican in town, amazing people working there and its BYOB. Yip Yip" - Sarah Tobi
For those who like classics with a spin… "Abbots Pizza is easily the best pizza spot in town. Famous for Salad Pizza. Insider tip, you can 'saladify' a slice of pizza. Oh, and don't forget their special sauce. These guys have been holding it down on Abbot Kinney for over a decade and are super OG." - Lindsey Kaye
For something adventures… "MTN opened recently and are owned by the same guys that own Gjelina and Gjusta (2 other Venice favourites). It's a Japanese fusion tapas spot with cool vibes plus next-level food that will have you wanting to go back. Make sure to go with a group so you can try several of the different plates! They're all a little exotic - you won't want to miss it." – Julia Guedes Ama

Follow the girls of GRLSWIRL to learn more about their Venice Beach adventures @GRLSWIRL