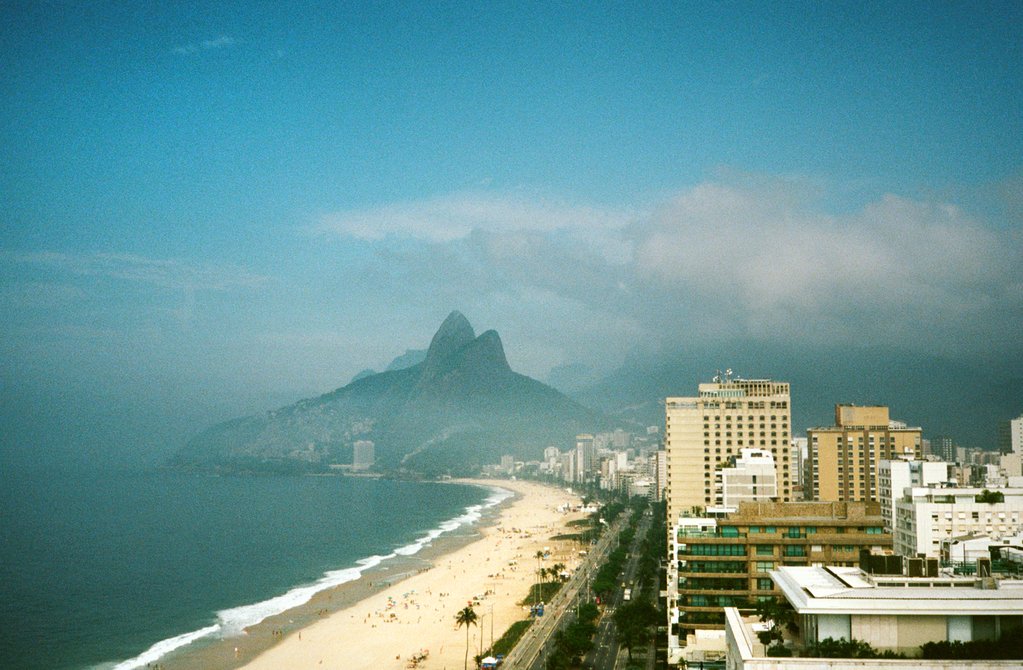 A hop, skip and quick flight away, lays the famed seaside city of Rio de Janeiro. The sprawling city, tucked in the lush mountains of Brazil offers the perfect mixture of urban and tropics. Full of energy, sensory experiences and golden beaches that seem to never end.
A place blessed not only by geographic location but also climate — Rio de Janeiro has something for everyone. What more could you want?
GETTING THERE
With several airports, Rio de Janeiro is easy to get to all year round, whether international or domestic. Once you've arrived it's best to either arrange a car (most hotels offer the service at a fair rate) or you can Uber to your desired destination. Once in the city, it is best to catch an Uber if going longer distances, especially at night. Avoid playing: Spot the Tourist.
 STAY
We suggest Ipanema Beach, because who doesn't want to wake up with the sound of the ocean? Splurge for the ocean view room, we promise you won't regret it. The sunny beach strip offers countless options! For those who want to make it a trip to remember, discover Janeiro Hotel, down the strip close to Leblon. Modern, minimalistic and cosy, this joint is an Instagram dream. For larger groups, there are plenty of Airbnb options to spare, many with rooftop pools which offer sea, mountain and city views all-in-one.
 EAT | DRINK
If you're feeling peckish and love cheese and bread, we suggest you snack on Pão de Queijo, these small Brazilian doughy balls of goodness can be found readily on many corners of Rio, the best to be found in the neighbourhood of Santa Teresa at Cultivar. For something more substantial (and that's bound to keep an entire group happy) Casa Camolese, directly across the street from the botanical gardens has a substantial and varied menu of meat, vegetarian and vegan options – go for the sautéed octopus. Deliciosa!
For sushi lovers, Sushi Leblon is the 'it' place in Rio de Janeiro offering cosy dining and tasty fresh dishes. Sweet cravings can be fulfilled with afternoon tea at Salão de Chá Confeitaria Colombo, the venue will also end up on your Instagram feed.
For a traditional Brazilian churrascaria we tried Fogo de Chão Botafogo and it did not disappoint, locals suggest Restaurante Marius Degustare, which also offers seafood dishes for the Pescatarians. End your Sunday with a beachside Caipirinha at Soul Rio 75 or head for a nightcap at Copacabana Palace Hotel, plenty of swanky beverages and cosy chairs to recharge in.
SEE | DO
Beyond the beautifully soft beaches of Ipanema, Leblon and Copacabana there is a city that has something for everyone.
For the outdoorsy adventurous types, the hiking in Rio de Janeiro is like no other and it is one of the best ways to take in the sprawling city. We recommend Dois Irmãos or Pão de Açúcar (Sugarloaf Mountain) as they both guarantee views that are worth the workout.
For something more leisurely, the Jardim Botânico (or botanical garden), is a quick drive from the beaches and offers a diverse experience in Brazilian and foreign flora with 6,500 species (some endangered) distributed over 54 hectares. The 200-year-old garden features over 900 varieties of palm trees with a long stretch of 750m featuring 134 palms, all descended from a single tree.
The city itself has many markets, especially on the weekends, and spots like Santa Teresa which offer cool boutique hotels, cocktail bars and is the best spot to find Brazilian art from locals. For more cultural experiences, discover the many galleries and museums such as Museu do Amanhã – a must see, even from the outside!